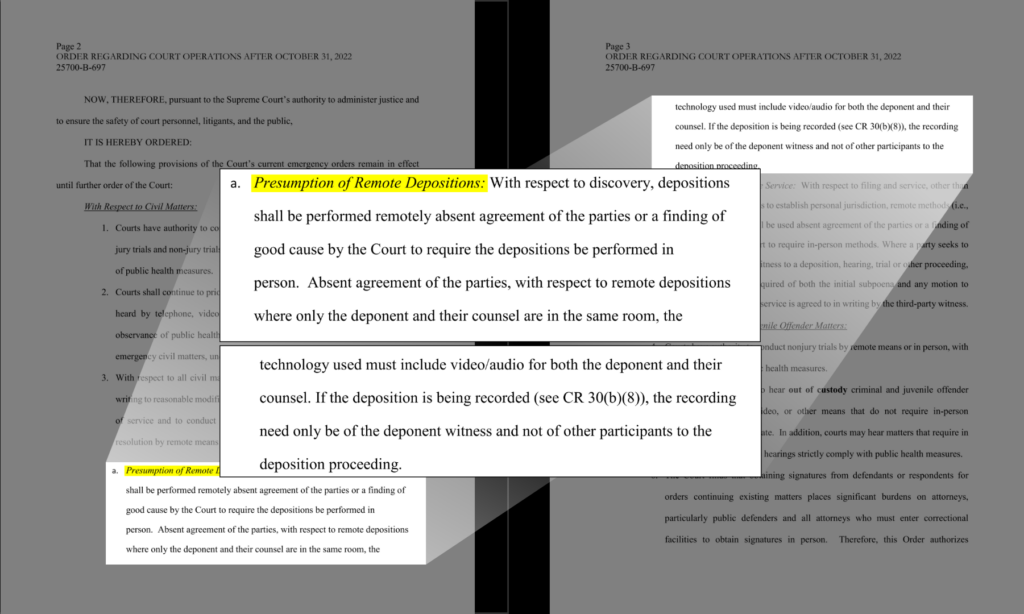 On October 31, 2022 the Supreme Court of Washington issued an Order Regarding Court Operations to take effect after the expiration of Governor Inslee's proclamation of a state of emergency due to the COVID-19 pandemic.
While the order addressed a number of areas of operation, one in particular stood out.   In the section titled With Respect to Civil Matters the Court flipped the presumption of in-person depositions on it's head.  Pre-pandemic depositions were assumed to be in-person unless the attorneys stipulated or the court ordered an alternative method.   With this new order that presumption has been reversed and in-person depositions now require agreement of the parties or a finding of good cause by the Court.    
This has huge implications for the practice of law.  As your deposition technology partner, B&A Litigation Services, has both the experience and the tools to help law firms navigate this new landscape.  Contact us for complimentary training.
Presumption of Remote Depositions: With respect to discovery, depositions shall be performed remotely absent agreement of the parties or a finding of good cause by the Court to require the depositions be performed in person. Absent agreement of the parties, with respect to remote depositions where only the deponent and their counsel are in the same room, the technology used must include video/audio for both the deponent and their counsel. If the deposition is being recorded (see CR 30(b)(8)), the recording need only be of the deponent witness and not of other participants to the deposition proceeding.